Celtic weave wedding ring set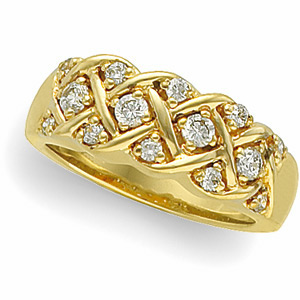 14kt white or yellow gold engagement ring and wedding ring done in Celtic weave and interlaced with gems of your choice. We can supply the rings as settings only and your jewelry can set size and set your gemstones, or we will have it all done for you. Very high end American manufacturer. Will export to Ireland and Europe. Each ring is 7.5mm width.#12663
Engagement setting without any gemstones - $545.00
Wedding band without any gemstones - $595.00
Engagement setting with small SI/GH diamonds hand set - $1,045.00
does not include large center diamond of 3/4-1.5cts
Wedding band with small SI/GH diamonds hand set - $1,195.00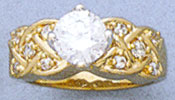 The engagement ring is ready to accept a .75 to 1.25 carat center stone and two -2.2mm (.04ct) stones and eight -1.7mm (.02ct) stones. Shown with all diamonds. Emeralds would work or alternating diamonds/emeralds. (.24ct plus center stone)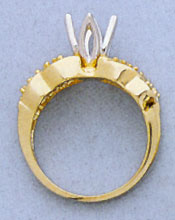 Side view showing white gold tulip mounts and overall mass of the ring.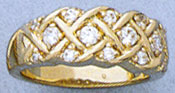 Matching Celtic weave wedding band accepting four -1.7mm (.02ct) stones and ten -1.5mm (.015ct) stones. (.23ct total)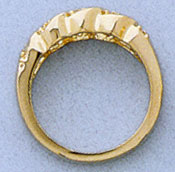 Side view of Celtic band
Diamond prices are based on quality. Color and clarity. For the small stones the prices can range from $600 to $3,000 per carat. You decide. For the larger stone, depending on cut, color and clarity, prices could vary from 2 to 10 thousand dollars per carat. Even higher if you get into near flawless.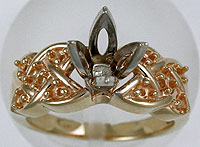 You can always buy the mounting and have your gemstones set later.