Celtic trinity knot ring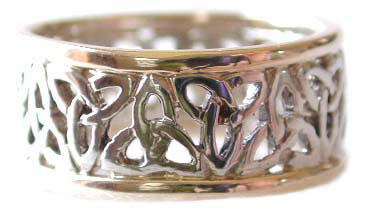 The magic of threes as told by the Celt's in the historical trinity knot band...
Each knot has three points, three loops and three knots to make the one. Some believe that with the two points facing top, it is the sign of an angel. Three has been magical in many religions and beliefs.
This ring is wide at a little over 9mm wide and almost 8mm for ladies with the optional trim and uniform all the way around. This particular combination shown at the top of the page is done in 14kt white gold filigree 7mm trinity knots with 14kt yellow gold outer bands of medium width. Again in threes, three rings joined to become one band.
You can create yours in any combination of color, 14kt or 18kt, platinum, with or without outer rails.
When you have your ring size taken, you MUST specify a wide ring sizer. Better yet, try on a wedding band that is already 10 or 8mm wide to see how it feels. Often times with a wide band you will feel more comfort with a half size increase. Check to be sure! These are sized from the center outwards and not on the leading edge.
Those three colors you see below are three separate rings. If someone tries to stretch this trinity knot band or resize it, it may become three rings again. Ireland will no longer accept returns from the USA do to an incorrect size. These are hand made custom to the way you order the selections.
Each Celtic trinity knot band is made to order one at a time by hand in Dublin, Ireland. Usually delivered in 3 to 5 weeks, 8-12 weeks for platinum work.
To help give you and idea of cost so you can create your own custom trinity knot ring, pricing in the first group is for the knots, the second group for the optional outer rail trim bands which is actually two more rings. Add, mix and match for your personal choice. Some of these images are blown up 10-20 times normal eyesight. It is like looking through a jewelers loupe.
Remember, the trinity knot band by itself is 6mm or 7mm. Adding the trim will add 2mm more to the overall width.
#SEAJ37 from $895.00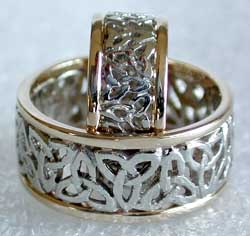 his is 10mm wide & hers is 8mm wide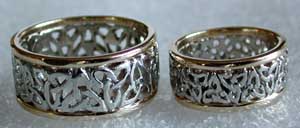 everything is exactly the same, except the knots are more compact on hers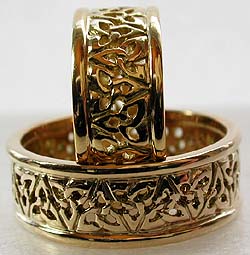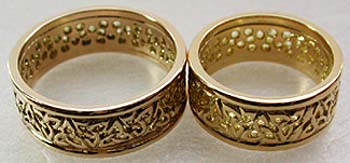 Her's is all yellow 18kt and his is all yellow 14kt gold and both are 8mm wide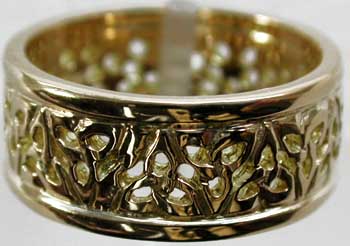 Her's 18kt yellow gold!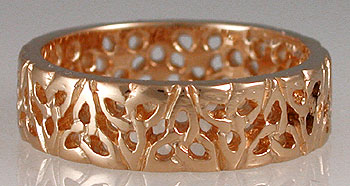 6mm knots no trim
6mm knots with trim his/hers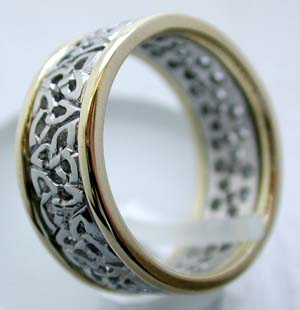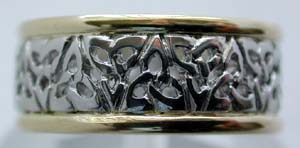 You can't tell, but this is size 6 with platinum and 18kt custom heavy trim. Weight was over 10gms!
And he wanted platinum on the outside for his!

Regular trim and custom extra wide that is no longer available. Both are 7mm knots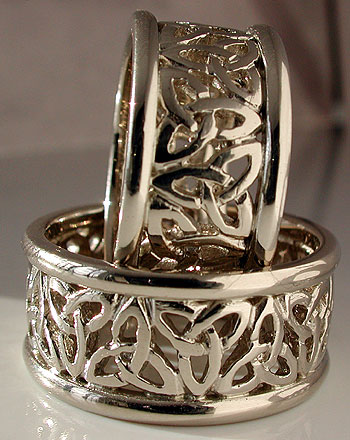 His and hers, both 7mm knots and discontinued extra wide trim. 18kt white on 18kt white
Use your browser's back button to return or close this if it is a new window
IRISH CELTIC JEWELLERY index ~ FINE JEWELRY index ~ MARINE LIFE index ~ NAUTICAL JEWELRY index